How to Start a Car With a Bad Fuel Pump | A Simple Guidelines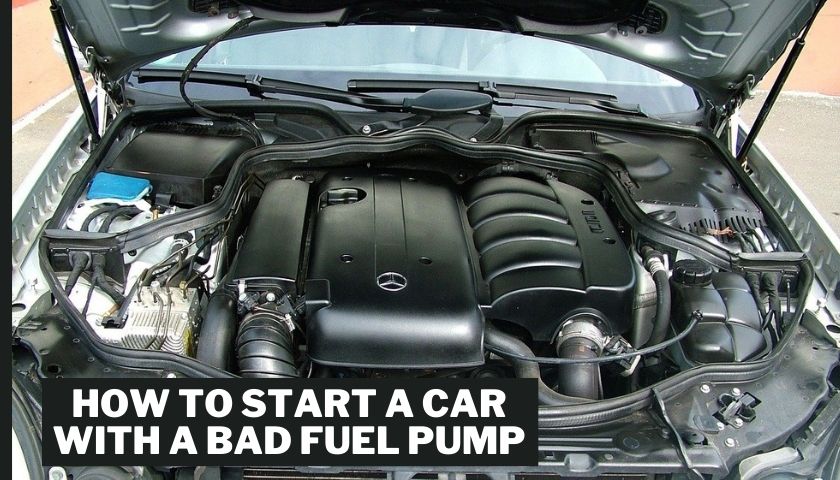 Among the various automobile problem, an incorrect fuel supply is the most common one. Without a correct fuel supply, your car's engine will face plenty of issues like engine surging, difficult starting, stalling, or sputtering. Sometimes the situation becomes out of control, and you may need to replace the fuel pump. But before you do it, learn how to start a car with a bad fuel pump. It will save you and prevent you from being suddenly stranded on the road and sometimes drive safely to reach the nearest mechanic.
Usually, people do not bother with 'pump,' but every aspect needs proper attention when it comes to the engine's performance. Do not forget, to avoid expensive repair, troublesome and to ensure optimal engine performance you must treat the bad fuel pump as soon as possible.
What does a fuel pump do?
A fuel pump is a vital component of the car, which gets power from the internal combustion engine. Fuel automatically store in the fuel tank when your engine needs fuel and air to inject into the combustion chamber.
However, a fuel pump is known as a fuel transfer pump also. It transfers fuel from the tank to the engine, especially to the fuel injectors or carburetors. It is an essential function because fuel injectors or carburetors are streaming fuel into the engine's combustion chambers.
Symptoms of the bad fuel pump
We all know that a fuel pump gets damaged or does not work accurately; the engine does not get the right amount of fuel at its needs. As a result, its performance becomes down. Here are some of the most familiar and often occurs symptoms of a damaged pump.
1. Difficulty starting
If your car takes excess time to start, you should check the fuel pump because a faulty fuel pump can cause difficulty starting.
Whenever you turn on the ignition, the fuel pump runs through it constantly. A faulty fuel pump may pump fuel, but it may still be challenging to start your car due to a lack of pressure. Your car can take more cranks to start than before if the fuel pump becomes weak. Even in more serious condition, your car may need multiple turns of the key to start finally.
2. Engine stalling at the high temperature
Stalling can cause many problems. If your car's thermometer shown high temperature and stalling problems happen frequently, then maybe a faulty fuel pump is the main culprit. So, if stalling occurs continuously with a high-temperature gauge, then check your fuel pump and replace it if needed.
3. Engine sputtering
Suppose your engine is sputtering at high speeds, surely it because of a faulty fuel pump. Because only when the fuel pump fails to provide constant fuel streaming to the engine at the right pressure, the engine starts to sputter. If you are driving your car at high speed and suddenly your engine sputter, then just checks the fuel pump.
4. Engine surging
When your pump sends excess gas to the engine, then it might lead to the engine surging. Though this symptom is related to a bad fuel pump, it can also a cause of harmful gas. If you cannot identify the actual cause, take help from an expert mechanic.
How to start a car with a bad fuel pump
Look this carefully-learning how to start a car with a bad fuel pump is a temporary solution only to this vital problem. Here we strongly recommend you to take your car to an expert mechanic to solve the problem permanently.
You can go for the below-listed tips to drive your car for the next mechanic if you face any of faulty fuel pump problems.
1. Use a fuel pressure gauge.
A fuel pressure gauge is a monitor by which you can monitor the fuel pressure in the engine. This device is an excellent diagnostic tool to keep your eye on the fuel system.
It is a great way to ensure fuel is running at the peak level. It will be best if you install the fuel pressure gauge to examine the fuel pressure. It will help you get the actual fuel pressure idea and allow you to start your car somehow with a bad fuel pump.
2. Applying some external pressure
You can apply some external pressure to start your car with a bad fuel pump. We know that the prime problem of the bad fuel pump is that it decreases the necessary pressure for the car operation. As a result, your vehicle's performance becomes low.
In that case, the easiest and simple solution is to apply some external pressure for starting your car with a bad fuel pump.
3. Maintain the engine's heat
Another possible and easy way to solve this problem is to maintain the car's engine's heat. Yes, the only reason to start the car even with a faulty fuel pump is that your car is still cool.
So, the best way to deal with the bad fuel pump problems is to maintain a particular amount of heat in the car's engine. By this, you can easily stabilize your car performance and reduce the frequent malfunction of the car.
Some side effects of a bad fuel pump
As we already said, do not try to start your car with a bad fuel pump again and again. Because starting your car in any way with a bad fuel pump usually brings a number of side effects and problems to the car. However, the possible side effects of driving your car with a bad fuel pump are-
Frequent engine failures
Engine sputtering
Deteriorated fuel economy
Surging
Power loss
Excess hot power engine of the car
Frequently Asked Questions (FAQ)
How do you know if your fuel pump is bad?
The most common indication of a bad fuel pump is the loss of power when the car is under stress.
Can a fuel pump fail suddenly?
Yes. A bad fuel pump can fail suddenly. If suddenly your engine starts sputtering while driving at constantly high speed, then maybe your fuel pump does not work correctly.
Can a car drive with a bad fuel pump?
A bad fuel pump shows many symptoms while running the car, and at the end of the day, your car will be stopped.
How does a car act when the fuel pump is going out?
If your fuel pump is damaged, you will notice a decrease in fuel efficiency, power, and acceleration of the car.
What is the life expectancy of a fuel pump?
On average, the life expectancy of a fuel pump is 200,000 miles.
Wrapping up
We hope you have seen the possible side effects of starting a car with a bad fuel pump and also understanding them well. Most automobile experts recommend avoiding the use of your car with a faulty fuel pump. But if there is an emergency, and you have to start your car right now with a bad fuel pump, then follow the above-listed tips and drive your car. But do not forget to go for a mechanic and replace the bad fuel pump as soon as possible.